In recent years mining investors have been hearing a lot about one of the world's hottest exploration regions: the Golden Triangle of British Columbia. This region is home to some of the world's largest and richest mineral deposits.
The name Golden Triangle comes from a 500 km belt of mineralization stretching south from Atlin in northern British Columbia near the border with the Yukon, to Kitsault, just southeast of Stewart, British Columbia – an area historically associated with molybdenum and silver production. It's the southern portion that gives the Golden Triangle its name, as it has hosted many past producing mines, with several more in various stages of being brought into production. These include:
Eskay Creek – This is considered to be the world's most precious metal-rich Volcanogenic Massive Sulfide (VMS) deposit. 
KSM – It's considered to be the world's largest undeveloped Copper/Gold porphyry deposit. It has an initial 44-year mine life production plan, with reserves of 38.8 million ounces of gold and 10.2 billion pounds of copper.
Brucejack – The mine commenced production in 2017 and is considered to be one of the highest grade gold mines (16.2 g/t) to have opened in recent years, with estimated reserves of 4.2 million ounces of gold.
What makes this region so exciting is that the geology contains a wide variety of mineral deposits. There are precious metals such as gold and silver, but also, and importantly, base metals such as copper and molybdenum. 
Geology
The Golden Triangle is situated within the Sulphurets Hydrothermal System, which hosts one of the world's largest concentrations of minerals;  
188 million ounces of gold estimated reserves, with 47.5 million proven and probable
1.2 billion ounces silver, with 214 million proven and probable  
55 billion pounds copper, with 10 billion proven and probable.  
Most of the Golden Triangle mineralization was formed by volcanic activity during the Late Triassic and Early Jurassic age – and the area's terrain is often referred to as Stikinia or Stikine terrain. A simple explanation: As the magma rose towards the earth's surface, the molten rock containing concentrations of many different minerals was carried upwards until it reached water and air. It then cooled, and settled, as likely happened at Eskay Creek when mineral-bearing sulphides and minerals were deposited on what was the surface at the time. Where they settled at deeper levels, there were often iron-formed porphyry deposits laden with copper, gold, and molybdenum.  
All of the mineral deposits formed in the Golden Triangle have one common characteristic: they are all found near the surface at depths of 2,000-2,500 metres. As such, the normal continuous erosion of the earth's surface has enabled easy access to many of these deposits.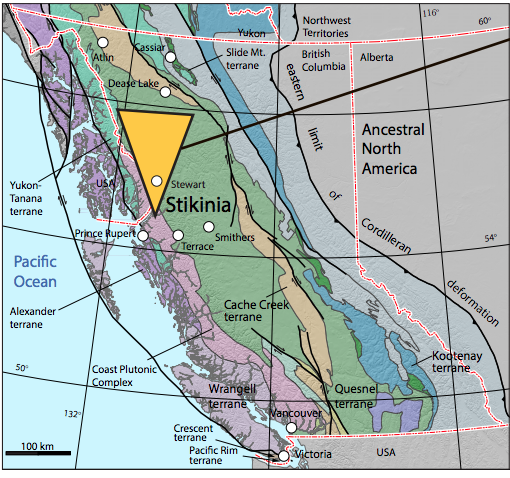 Principal Discoveries
Eskay Creek
The story behind the Eskay Creek…


Read More: The Golden Triangle: British Columbia's Exploration Hotbed