Written by
Shiny Varghese
, Edited by Explained Desk |

Updated: July 2, 2020 8:12:52 pm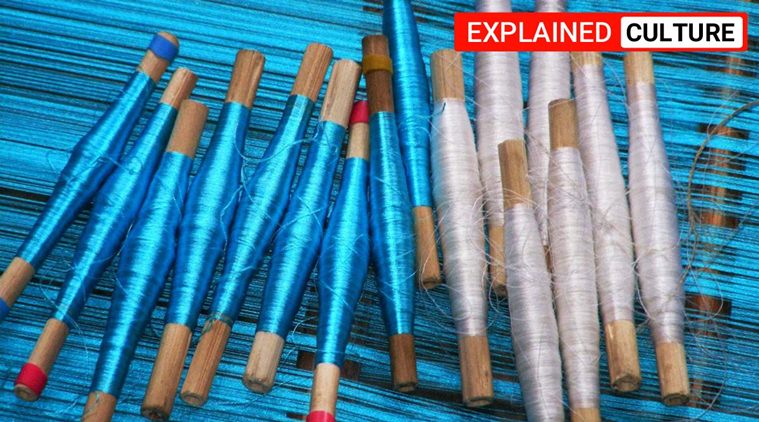 Nearly 80 per cent of the silk threads that weavers use across the country come from China. File/PTI Photo
At a time when Chinese goods are frowned upon and slogans of 'down with China' fill media air, there's one industry that will simply come to its knees without its primary raw material from China – India's silk weaving industry.
"Without Chinese silk threads, not only will the entire industry come to a halt, but the heritage we have of woven silks, be it in Benares or elsewhere in the country will be lost," says Varanasi-based master weaver Maqbool Hussain.
Nearly 80 per cent of the silk threads that weavers use across the country come from China. Of the rest, 10 per cent comes from Karnataka, and the rest from Bihar and Assam. In India, there are primarily four types of silk thread sources – domestic, which include mulberry and eri, and wild that includes tussar and muga. "There have been alternatives from Vietnam and Korea, but their scales of production don't match our demand," says Hussain.
Benarasi saris have been showpieces on the world's stage, be it at London's Great Exhibition of 1851, where the lavish use of zari and silk testified to the craft and skill of its weavers, or when the Vishwakarma exhibitions of the 1980s featured a collection of these saris.
"Known for their exquisite workmanship, the Benares saris long ago were made with tissue, silk, and fine pure zari, from silver threads coated in gold. If you melted a sari, you were left with a lump of metal that could fetch you a good sum in the days gone by. It was not unusual, therefore, for traders to go door to door and barter saris for bartans. The Surat zari of present times does not match that level of purity," says Jaya Jaitly, President-Founder, Dastkari Haat Samiti.
With the dependence on Chinese silk threads, the Benarasi silk sari has taken a different shine and no longer holds the heaviness that came with pure zari. Secunderabad-based master weaver Gajam Govardhana, known for his ikkat dyeing tradition, testifies that silk weaving across the country today, from Salem and Erode to West Bengal, Rajasthan and Varanasi all depend on China for its threads.
The difference in quality between Chinese threads and threads from Karnataka is in the finish and thickness. Reeling is how the raw silk filaments are drawn out from the cocoon. And the machines in India do not give the smoothness or the shine that Chinese threads have. This leads to thicker threads which can be used on hand looms, but not on the warp in powerloom because of the speed with which the yarn is woven — and the chances of the breaking are greater.
"Our…


Read More: Explained: Why we can't easily wipe out China from India's silk weaving industry