The Australian sharemarket broke back through 7000 points on Wednesday to reclaim its post-pandemic high, with market watchers now tipping the index to kick on to a new all-time record.
The benchmark index topped last week's 13-month peak by about 10 points as technology shares, gold miners, and health firms fuelled a 0.7 per cent rise to 7023.1.
Bell Direct markets analyst Jessica Amir said investors were continuing to buy into the narrative of a strong economic rebound, even after recent setbacks to the nation's vaccination schedule.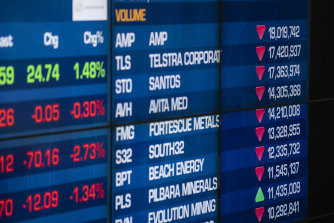 She predicted the local index would test its previous heights in coming weeks and months as the data continued to improve and company earnings impressed.
"We've climbed over the 7000 obstacle and I think the next headline will be about us hitting an all-time high," Ms Amir said.
The market's best close since February 21 last year brings it within 150 points of its highest finish of all time, a remarkable 13-month recovery after being savaged in the steepest bear market in history.
Ms Amir said a positive jobs report on Thursday would further stoke the embers lit by the release of jubilant consumer sentiment and business confidence data this week.
She added that companies will soon also have the chance to show off a drastic improvement in earnings, and – in the case of the banks – improved dividend prospects.
"It is a really good time for investors to be involved," Ms Amir said.
"There's still plenty of upside – tech has come out of a one-month bear market and is in a real sweet spot.
"You'll also see the banks report a bumper – perhaps a record – turnaround when their numbers are out. There's momentum there."
Wall Street's lead was mixed on Wednesday, though the tech-heavy Nasdaq was booming after US 10-year yields eased on the latest inflation data.
US inflation jumped to 2.6 per cent year-on-year in March, slightly higher than 2.5 per cent predicted.
Swissquote analyst Ipek Ozkardeskaya said a pause in the Johnson & Johnson vaccine also pulled attention away from rising consumer prices and back to the "endless pandemic" to boost stay-at-home stocks.
Locally, Afterpay rose 2.3 per cent to $127.85 to lead the tech sector higher on Wednesday, supported by Xero, and Wisetech Global.
Buy now, pay later platform Zip Co had been as much as 9 per cent ahead before fading into the afternoon. It was down 1.2 per cent at $9.16 when it requested a trading halt at 3pm for an expected capital raising and purchase.
Biotech CSL rose 1.2 per cent to $267.80 and ResMed was up 1.6 per cent at $27.05.
Randal Jenneke, head of Australian equities at T. Rowe Price noted that growth stocks had continued their recent show of strength, though from a position of underperformance.
"I think part of what we're seeing is that there was such a savage move into value over the past six months that we're kind of having a…


Read More: As it happened: New post-COVID peak as ASX breaks through 7000