At Ørsted, we are on a mission to create a world that runs entirely on green energy. To achieve this, we must unlock all the renewable energy resources available to us – no matter how challenging that might be.
Floating offshore wind offers tremendous potential: It could allow us to tap into as much as 80% of the world's offshore wind resource, placing turbines in much deeper waters with stronger and more consistent winds.
Reaching new waters is not going to be easy. But we've done this before with seabed-fixed offshore wind – and with the right investment in new technologies, infrastructure, and supply chain – we can do it again.
And we must. Three interrelated crises – the energy crunch, climate change, and biodiversity loss – are all driving the urgent need to develop new renewable energy solutions.
For floating offshore wind to truly work, it needs to be a global industry. Fortunately, we are confident that we can build off the rich experience and talent not only at Ørsted, but in the UK, to deliver floating offshore wind as a global industry at scale.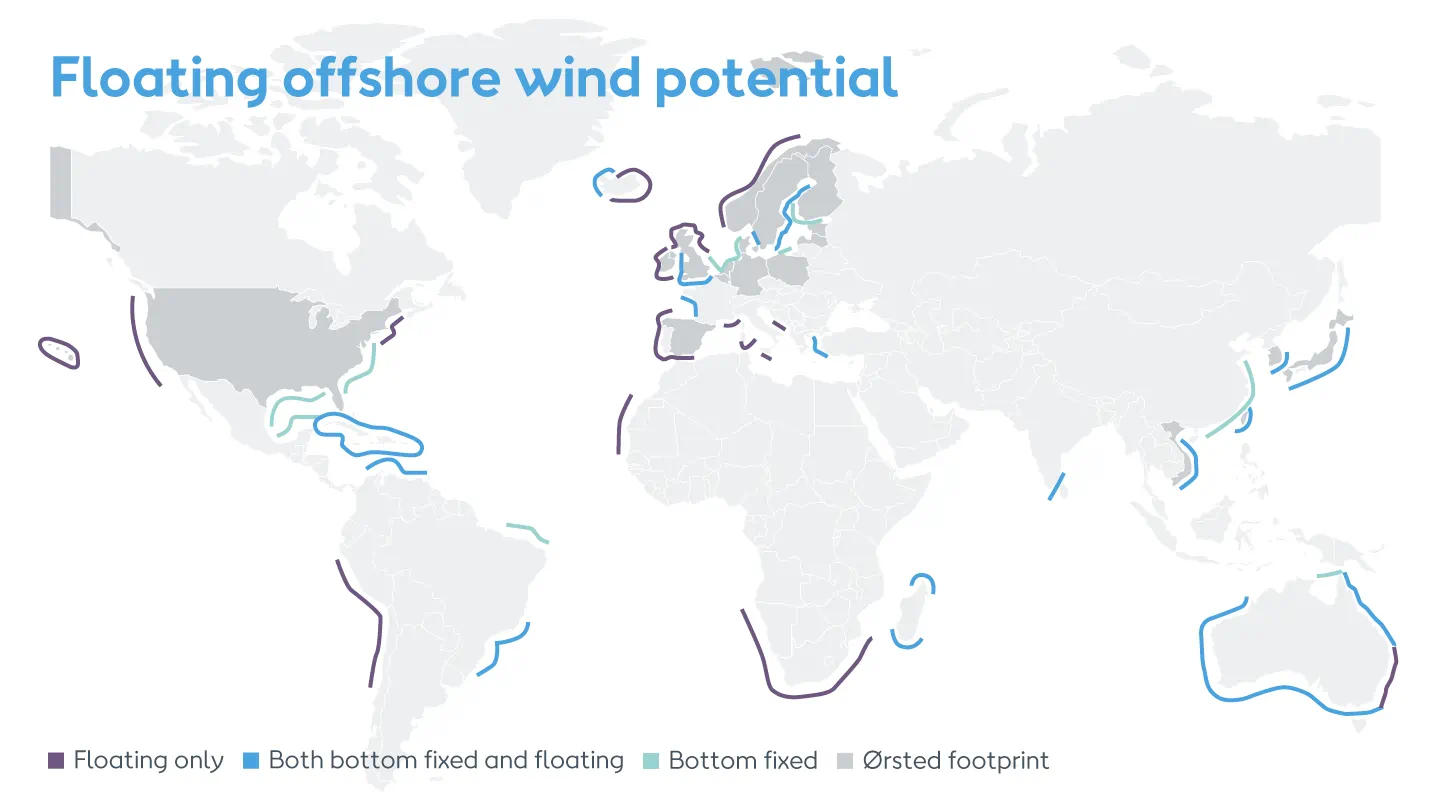 Deeper waters, stronger winds
After 30 years of development, seabed-fixed offshore wind is now firmly established as a mature, cost-effective technology playing a key role in the global green energy transition.
Placing wind turbines on floating foundations is the next step for offshore wind to fully reach its potential – allowing us to greatly increase our scope and scale beyond the relatively shallow waters suitable for seabed-fixed turbines.
The ability to install turbines in waters deeper than 60 meters opens-up vast new geographic regions and enormous markets for offshore wind – from the Pacific Ocean off the coast of California to Japan.
By the mid-2030's, it's estimated that 20% or more of new offshore wind could be floating.
Big questions
However, floating offshore wind is still a technology in its early stage. Its further global development raises many questions, including:
How can it be designed and optimally built in a short timeframe?
How can the build-out costs be reduced?
How will floating wind turbines coexist with the marine environments? And how might any potential negative impacts be mitigated?
How will floating wind turbines interact with other ocean users – from commercial fishing to shipping and defence?
How can floating wind create value to local communities beyond providing energy?
We don't have all the answers yet, but based on our experience answering similar questions for seabed-fixed, we are confident that floating offshore wind will soon become a critical part of the global energy mix.
And there is no time to waste. Energy prices are skyrocketing to levels not seen in decades due to the Russian invasion of Ukraine. And this year's extreme heat, wildfires and droughts demonstrated once again the social and economic impacts of climate change.
The need for independent, secure, green energy sources has never been greater.
Learning through experience in Scotland
For floating offshore wind to be a long-term and sustainable solution, we need to do it right.
This means building off our decades of experience tackling similar challenges in the development of seabed-fixed offshore wind by working closely with key stakeholders – from local communities to regulatory and advisory bodies and other ocean-based industries – to find solutions.
Ørsted is already driving floating innovation in Scotland with our first large-scale 1GW floating wind development project, Stromar, with partners, Falck Renewables and Blue Float Energy.
We are also developing the 100MW Salamander project as part of a joint venture with Simply Blue Group and Subsea 7. Designed as a stepping-stone for floating wind technology developers, supply chains and stakeholders, the project is supporting the cost reduction and learning journey needed for the commercial deployment of floating offshore wind.
With these projects, and with more potential opportunities on the horizon in the Celtic Sea, we are committed to making floating a competitive renewable energy solution at scale.
What will it take to make that happen on a global level? And to cement the UK and Scotland as world leaders in floating as the industry grows in the coming decades?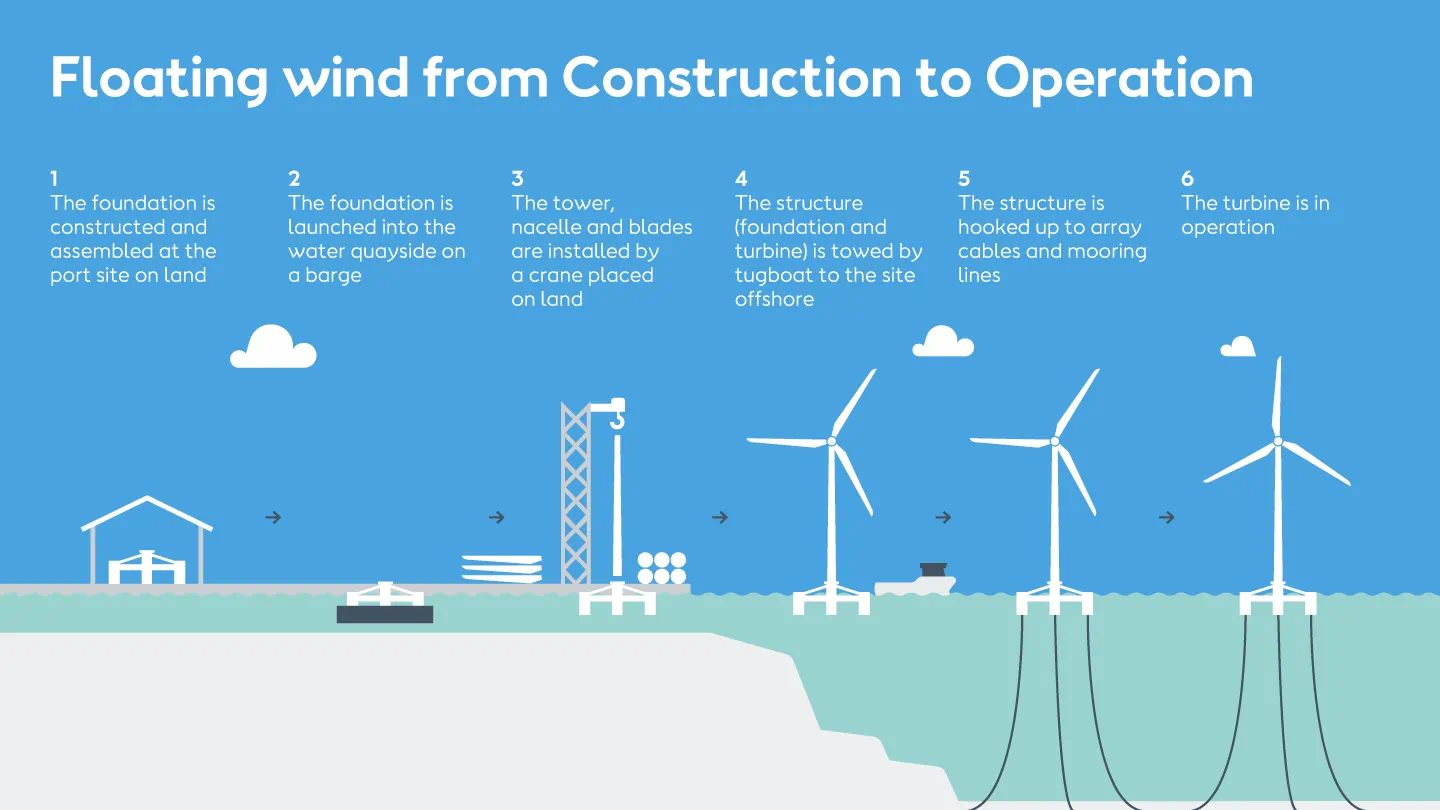 Key to success: Public-private cooperation
Well-coordinated collaboration between governments and industry is required if floating offshore wind is to scale-up and become cost effective globally.
The industry will need policy support and major government investment in areas such as new deep-water port infrastructure to spur private investment and demonstrate a commitment to this emerging technology.
Offshore seabed-fixed wind is now a reliable source of green energy thanks to years of collaboration between government and industry – particularly in the UK.
For example, the Contracts for Difference (CfD) scheme was instrumental to driving down costs and scaling-up the industry over the course of a decade in the UK.
Floating wind needs to grow alongside seabed-fixed, not in competition with it. Therefore, policies and an enabling regulatory environment need to continue to support both technologies.
Fit-for-purpose CfD-like schemes, or similar supporting mechanisms, should be created in other global markets to specifically foster investment and growth in floating, while still supporting seabed-fixed offshore wind.
And just as we worked in close collaboration with academia, global and local conservation groups to study the potential biodiversity impacts of seabed-fixed turbines, we will need to do the same for floating through environmental impact assessments.
Steps the UK government has taken steps to support floating:
Setting an ambitious target to deliver 5GW of floating offshore wind by 2030
Establishing a UK floating offshore task force with industry
Providing support for ports and manufacturing through the £160 million Floating Offshore Wind Manufacturing Investment Scheme (FLOWMIS)
Including floating offshore wind in the last CfD allocation round
Supporting a number of freeports across the UK  
Time to turn expertise into action
The UK and Scottish government have already adopted many of these supportive policies – demonstrating an eagerness to seize the opportunity
to leverage existing local competencies, develop local supply chains and capture some of floating wind's expected global growth.
While we are living through uncertain times, the successful build-out of seabed-fixed offshore wind in the UK proves that with the right public-private collaboration we can achieve audacious goals.
It is time for us to take our years of expertise in offshore wind and turn it into action in deeper waters – and move one step closer to creating a world that runs entirely on green energy.